Monday, March 13, 2017
Happy Birthday, Dolce de Leti!
DDL is celebrating 13 years of making and designing beautiful jewelry, and all thanks to YOU!
Let's celebrate one more year with a fun discount to remember! Please use coupon HAPPY13DDL in my Etsy shop, to receive 13% off your purchase! Expires March 25th at midnight.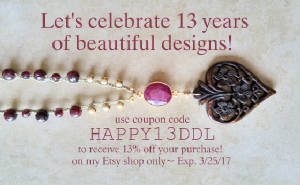 8:07 pm mst