Monday, November 21, 2011
Colorado College Arts & Crafts Sale 2011
I will be selling lots of jewelry gifts and sets at Colorado College Arts & Crafts Sale, happening December 2 , 3 & 4, 2011. Please stop in and enjoy the whole event. It's the best place to buy Christmas gifts made by talented local artists! Free admission. Bring your friends & family! Looking forward to seeing you!

Look below to see hours and location: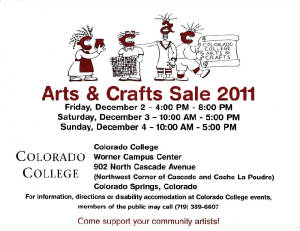 5:42 pm mst
Thanksgiving break 2011
My shop will be closed from November 21st until November 27th. Please note that if you place an order on the website, it will be processed by November 28th, 2011. Sorry for any inconvenience!
Happy Thanksgiving!

5:30 pm mst